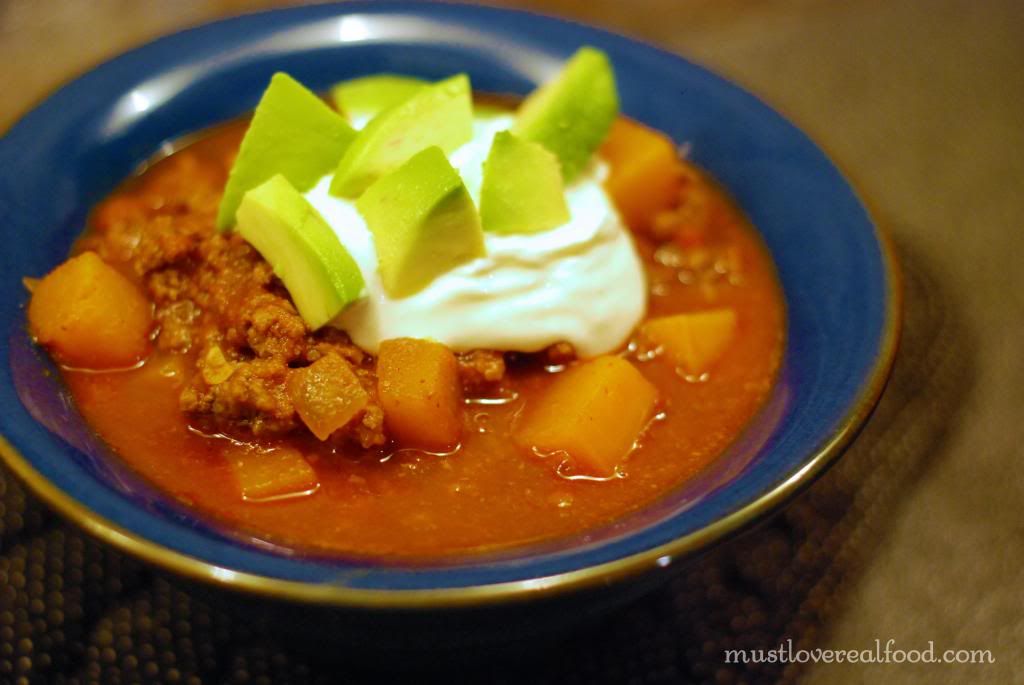 I was CRAVING chili today. I live in the Southeast and the weather has been stuck in the 30's all day; that is way too cold for this Florida girl. This is my current favorite chili recipe and I even whipped up my homemade chili powder for it. When you use good quality ingredients at each level, it's amazing how delicious these simple meals can taste. This recipe makes enough for two meals for our family, so we'll either eat leftovers tomorrow or freeze them and enjoy them in a week or two. Finish by adding the sour cream and lime crema and your favorite chili toppings. Stay warm!
Beef Chili with Butternut Squash
Make 6-8 servings
Ingredients
2 pounds ground beef
1 medium onion, chopped (about 2 ½ cups)
6 garlic cloves, minced chopped (about 1 ½ tablespoons)
1/4 cup chili powder (awesome homemade recipe follows)
3 cups beef or chicken broth
1 28-ounce can crushed tomatoes with added puree
1 1/2- 2 teaspoons finely minced canned chipotle chilies
3 cups butternut squash, cubed into bite-sized pieces
unrefined salt and pepper
1 1/2 cups sour cream
2 tablespoons fresh lime juice
1 tablespoon grated lime peel
shredded cheddar, chopped avocado, chopped cilantro
Directions
Sauté beef in a large pot over medium-high heat until brown, 8-10 minutes. Break up meat with spoon and then transfer to a bowl. Drain all but a few tablespoons of fat.
Add onions and garlic to pot and sauté until onions are tender. Add chili powder and sauté  for 2 minutes. Add beef, broth, tomatoes, and chipotle. Cover partially, and simmer until thick, about 45 to 60 minutes
Taste and season with salt (at least 2 teaspoons unrefined salt, less if you are using table salt) and pepper. Whisk sour cream, lime juice and zest together in a small bowl. Serve with sour cream and lime crema, shredded cheddar, chopped avocado.
Chili Powder
Makes about 1 cup
Ingredients
1/2 cup Ancho chili powder
1 tablespoon cumin
1 tablespoon ground coriander
1 tablespoon crushed Mexican oregano (crush with your fingers to crumble into finer pieces)
1 tablespoon granulated garlic
1 tablespoon onion powder
2 teaspoons cocoa powder (we use dutch-process cocoa)
1 teaspoon smoked paprika
1/4 teaspoon cinnamon
1/8 to 1/4 teaspoon cayenne or chipotle chili powder
Mix ingredients in an airtight container. Keeps for 6 months.
Notes:
Choose organic ingredients when possible.
When I open a can of chipotle chilies, I take the seeds out and then purée the chilies and sauce together in a small food processor. I put the chipotle puree in a small jar in the fridge and it keeps for months!