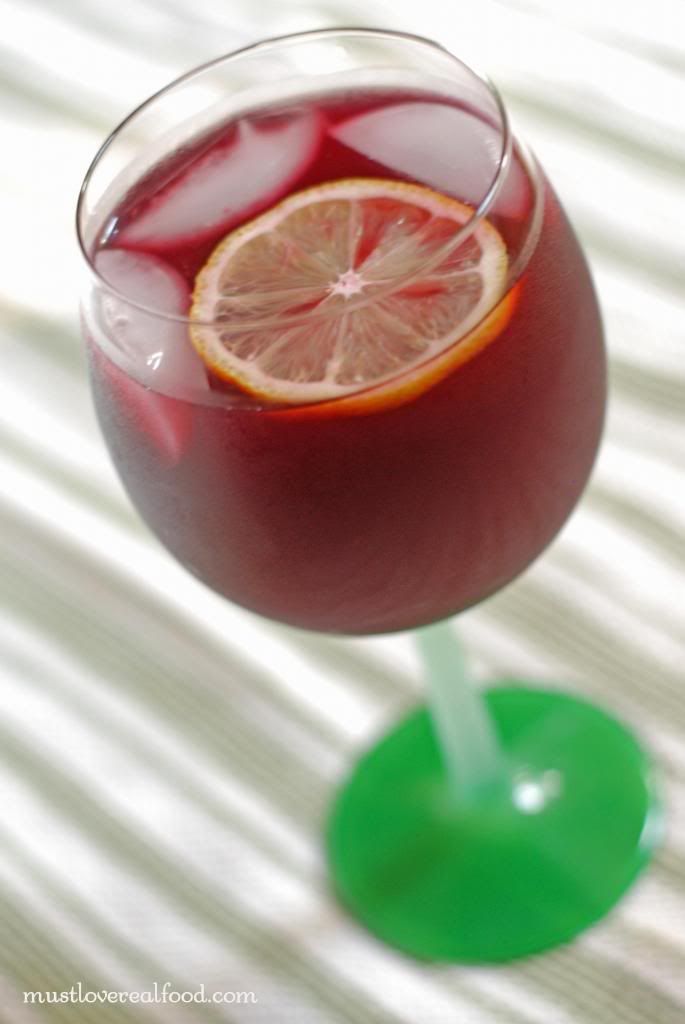 For some reason, I see Sangria as a perfect late summer or fall drink. I'm not saying that I won't whip up a batch of this any other time of year, but it especially warms my heart around this time. I mixed some up a few weeks ago and had some girls over for an evening of drinks and appetizers on the deck. It's great for entertaining because I don't have to attend to the drinks and can actually sit down. If you can get this mixed up a day before, all you have to do is take it out of the fridge before guests arrive and add some sliced fruit. Be sure to have lots of ice and chilled club soda. I don't add the soda, but I find that some people like to do that.
One of my favorite drinks is the Sidecar (I posted a recipe for my 
Magic City Sidecar
last month). I used some of the ingredients from that recipe to come up with this Sangria. Please use fresh lemon juice! There is a world of difference between the stuff in the yellow lemon-shaped bottle at the store and real lemon juice. If you don't have a way to squeeze lemons efficiently, check out the 
Norpro Stainless-Steel Citrus Juice Press.
 Make sure you pick one of these up before I start posting Margarita and Mojito recipes. You'll thank me later.
Citrus Sangria
Ingredients
1 bottle dry red wine
1/2 cup cognac (I use Rémy Martin VSOP)
1/2 cup Cointreau
1/4 cup fresh-squeezed lemon juice
1/2 cup fresh-squeezed orange juice
1/4 cup sugar
1/4 cup Licor 43 (a citrus and vanilla liqueur)
sliced fruit: oranges, lemons, whatever
ice
club soda, optional

Directions
Mix wine through Licor 43 together in a pitcher; chill in the refrigerator for several hours or overnight.  Add sliced fruit and pour into ice-filled glasses. Add club soda, if you like.