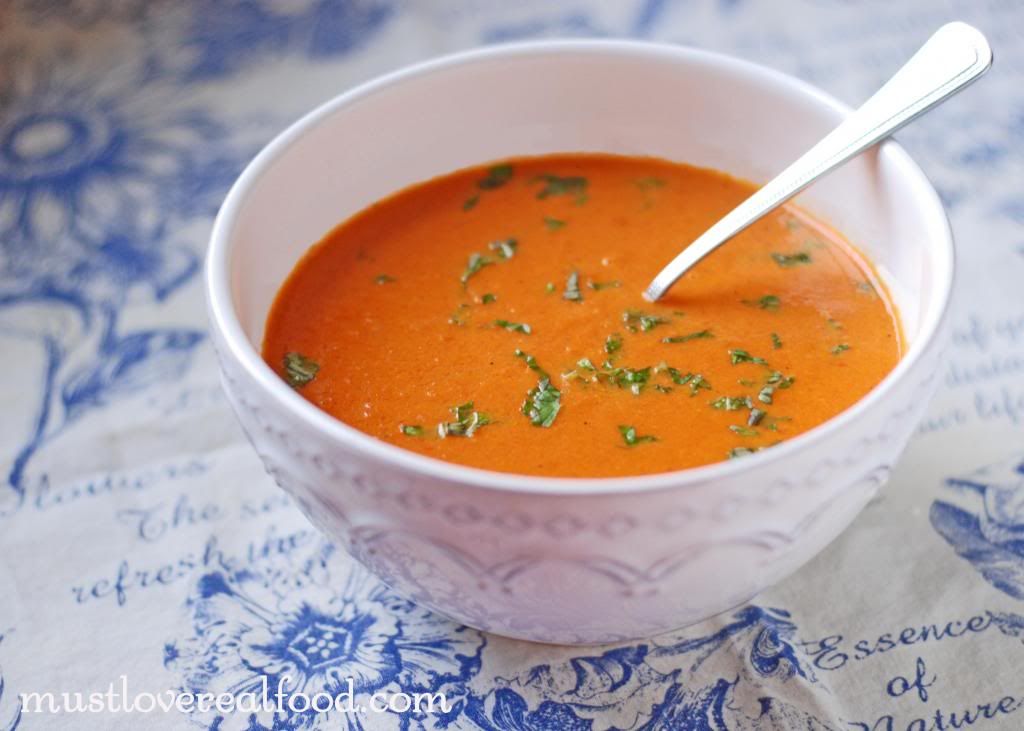 Yes, I realize that it's September, but it's still summer in the South and I'm still finding delicious local tomatoes. We are a soup-loving family and this one is a favorite with my girls. I also have another tomato soup recipe that I make with canned tomatoes when I can't get my hands on sweet summer ones. I'll post that recipe soon, I'm sure.
The tomatoes I used in this soup were from a small farmer's market that sets up two days a week in a church parking lot near my house. We were in and out of town all summer so I didn't discover them until mid-August! Farmer's markets are popping up everywhere, and even include some night markets with entertainment and fun for the entire family. If you haven't checked out the goods that your local farmers grow, it's a great time to start. Enjoy this soup with your fresh, late-summer tomatoes!
Summer Roasted Tomato Soup
Makes 4 servings
Ingredients
3 pounds fresh tomatoes, cored and cut into quarters
6 cloves garlic, peeled
1 large yellow onion, sliced
1/4 cup extra-virgin olive oil
Salt and freshly ground black pepper
1 quart chicken stock
2 bay leaves
4 tablespoons butter
1/4 cup heavy cream, optional
1/2 cup chopped fresh basil leaves
Directions
Preheat oven to 450 degrees F.  Spread the tomatoes, garlic cloves and onions onto a large baking tray. Add extra-virgin olive oil, salt and pepper and toss to evenly coat mixture. Roast for 20 to 30 minutes, or until caramelized.
Transfer tomato mixture to a large stockpot. Add stock, bay leaves, and butter. Bring to a boil and reduce heat. Simmer for 15 to 20 minutes or until soup has been reduced by a third.
Remove bay leaves and puree soup with an immersion blender until smooth. On low heat, stir in cream and taste. Season with additional salt and pepper, if necessary. Garnish in bowls with freshly chopped basil.
Adapted from Tyler Florence.