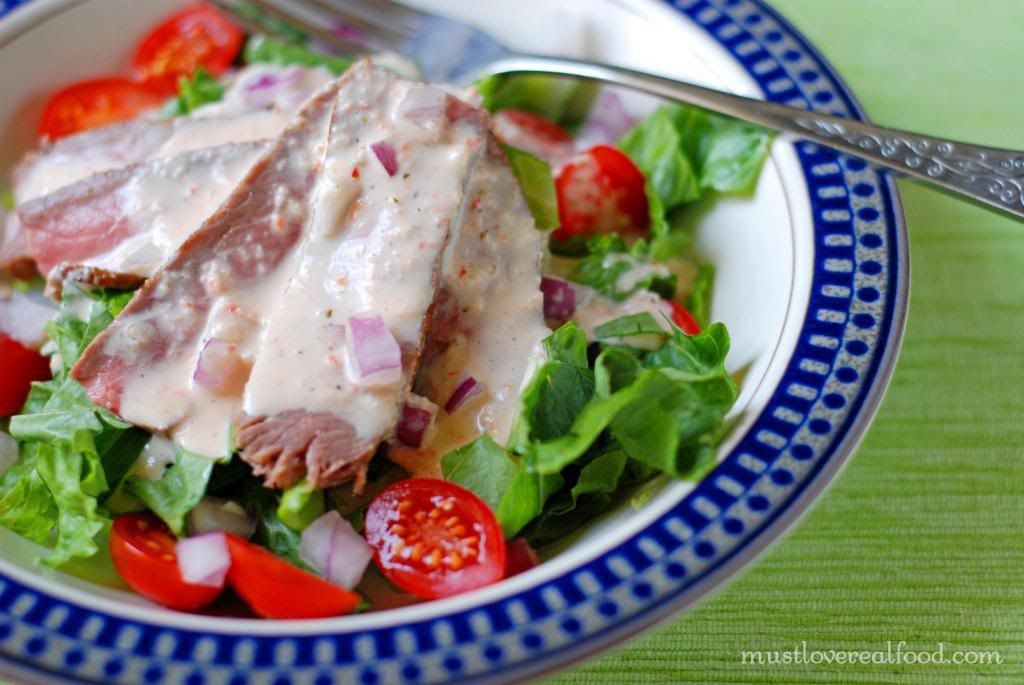 This was my lunch today! I can't believe I'm posting a recipe for this dressing since I never really liked Thousand Island as a kid (and I've never had it since). I prefer vinaigrettes over creamy dressings, but this was fantastic on my salad with leftover steak. It's a nice change of pace and my girls liked it. The name is catchy, too.
I also got to use one of my new favorite kitchen gadgets, the Ninja Express Chop (I bought mine at Target for $19.99). Thanks for introducing me to this, Michelle! Anyway, this thing is totally going on my Top Ten Gadgets List. I have used it for guacamole, dressings, marinades, chopping onions, making homemade Lara bars and more. And I've only had it a week.
Enjoy your salad. I'll post an easy homemade mayo recipe soon.
Thousand Island Salad Dressing
Makes 1 1/2 cups
Ingredients
1 cup mayonnaise, preferably homemade
2 tablespoons chopped bread and butter pickles
2 tablespoons chopped red onion
2 tablespoons chopped red pepper
1 tablespoon red wine vinegar
1 tablespoon honey
1/4 teaspoon salt
1/2 clove garlic, minced
1/8 teaspoon pepper
Directions
Add all ingredients to the bowl of a small food processor and blend until smooth.
Adapted from: http://www.mommypotamus.com/how-to-make-thousand-island-dressing/