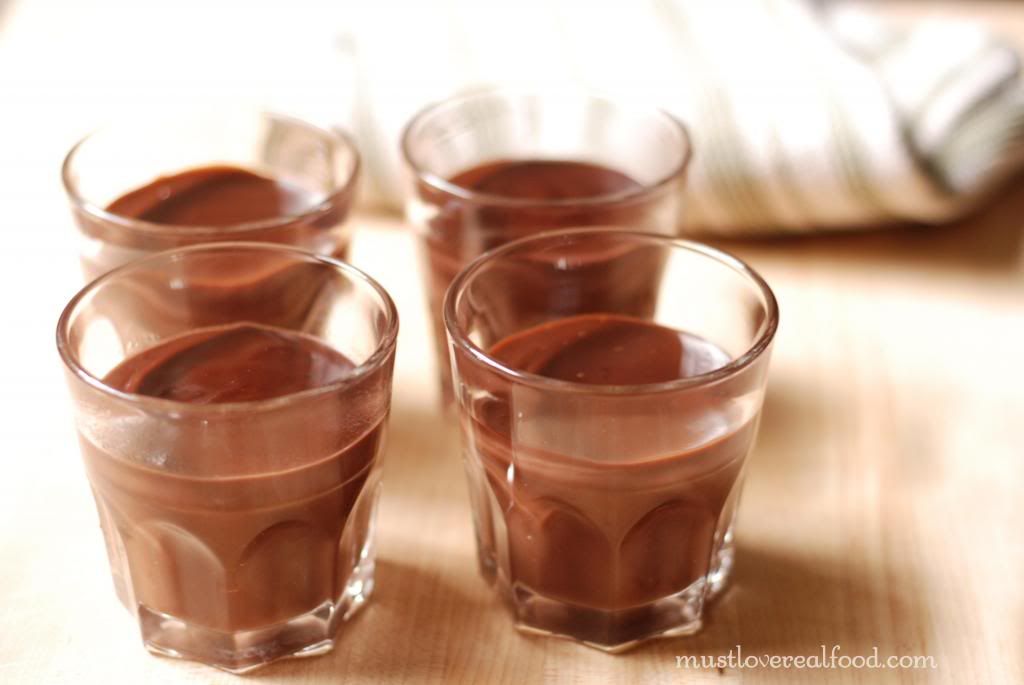 I surprised my girls with chocolate pudding after school this week. This is actually more of a dessert for us, so it's not something I make as an after-school treat very often (the girls KNOW this and really appreciated it!). At the grocery store a few weeks ago, my youngest asked if I could buy some of those pudding cups in the refrigerated section. I promised her that I'd make her some homemade chocolate pudding that would taste a hundred times better!
I've been making this recipe for years; and I love it because it comes together in less than ten minutes. Ten minutes! There is never a shortage of any kind of chocolate over here (I actually have a "chocolate drawer"), and the few other ingredients are staples. You can use regular cocoa powder, but I prefer the dutch-process cocoa in this recipe; it's smooth and rich. Pair this with some fresh whipped cream in a pretty glass and you have an easy dessert good enough for company!
Chocolate Pudding
Makes 4 servings
Ingredients
¼ cup organic corn starch
¼ cup dutch-process cocoa powder
⅛ teaspoon sea salt
2 cups whole milk
¼ cup pure maple syrup (or organic cane sugar)
2 ounces bittersweet or semisweet chocolate, finely chopped (about ¼ cup)
1 ½ teaspoons vanilla extract
Directions
In a small saucepan, whisk together cornstarch, cocoa and salt. Slowly add milk and whisk until smooth; add maple syrup. Put saucepan over medium heat and cook, stirring constantly with a silicon spatula (make sure you get into the corners of the the saucepan). Cook until thickened, about 5 minutes. Turn heat to low and add chopped chocolate and stir until melted. Remove from heat and stir in vanilla. Eat immediately (like I do) or refrigerate.
Notes
* I usually have mini chocolate chips at the house, so I sometimes use those and skip chopping my bar of chocolate.
Adapted from: http://www.oprah.com/food/Warm-Chocolate-Pudding