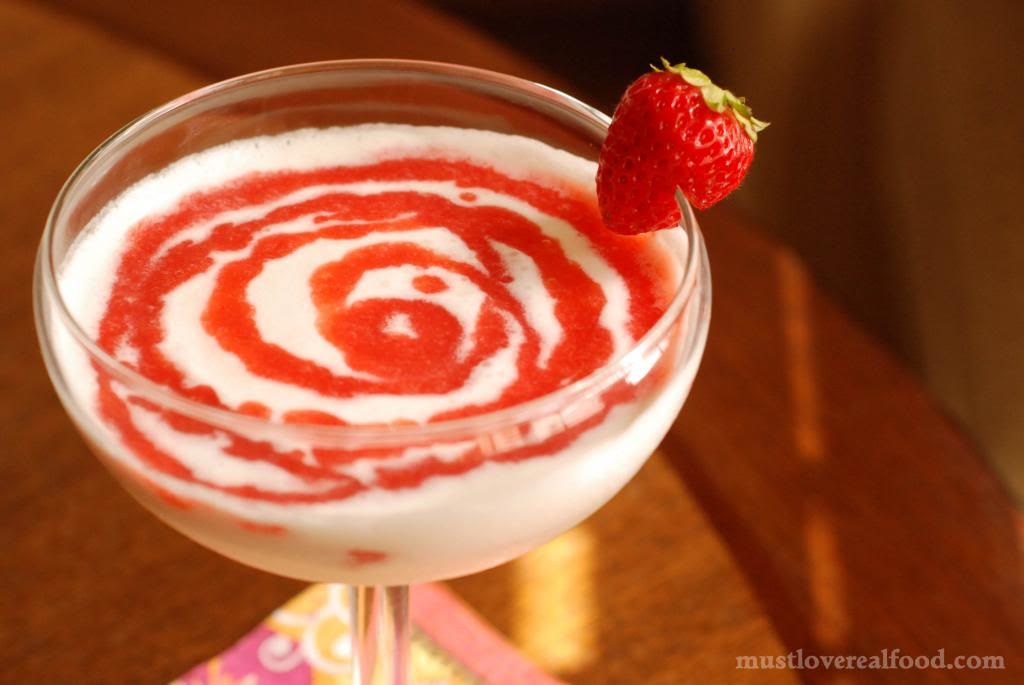 Finally, Friday! We are having some neighbors over this evening and these drinks are on the menu.  I'm really not a fan of Piña Coladas, or any frozen drinks at restaurants, but when I make them at home they are fantastic! On my last Trader Joe's trip, I picked up a can of coconut cream; it's similar to coconut milk but has more of the fat. It still has some additives that I don't care for, but it's much better than Coco Lopez or Goya Coco cream of coconut, which are usually used in Piña Coladas. I included a recipe below for homemade cream of coconut. Next time, I may try to make it with full-fat coconut milk and see which I prefer.
There is just something amazing that happens when you mix the flavors of strawberry, coconut and pineapple. This drink is not too sweet, which is how I like it. Being from Puerto Rico, I think I am a bit immune to rum since it runs through my veins. So sometimes, I add vodka or tequila for an extra kick.
Piña Colada with a Strawberry-Coco Rum Swirl
Strawberry Swirl
2 ounces Bacardi Coconut rum
8 medium strawberries
Piña Colada
2 ounces pineapple juice
2 ounces homemade cream of coconut, recipe follows, or you can use Coco Lopez or the Goya brand
3 ounces Bacardi Coconut rum
1 cup ice, or about 8-9 regular ice cubes
Directions
For the Coco-Rum Swirl: Puree 2 ounces of coconut rum with strawberries. Strain through a fine mesh sieve (if you have a powerful blender, like a Vitamix, you can skip this step). This should make enough to top about 6 drinks.
For the Piña Colada: Puree ingredients together in a blender on high. Pour into glasses and swirl the strawberry mixture over the Piña Coladas. Makes 2 drinks.
Note
* If you want it sweeter, add more homemade cream of coconut.
Homemade Cream of Coconut
1 (14-ounce) can of coconut cream (I used Trader Joe's brand)
1 ½ cups sugar
Whisk coconut cream and sugar together in a medium saucepan over medium-high heat. When mixture begins to boil, reduce heat to low and simmer for 5 minutes; watch it close so it does not boil over. Let come to room temperature and store in the refrigerator.