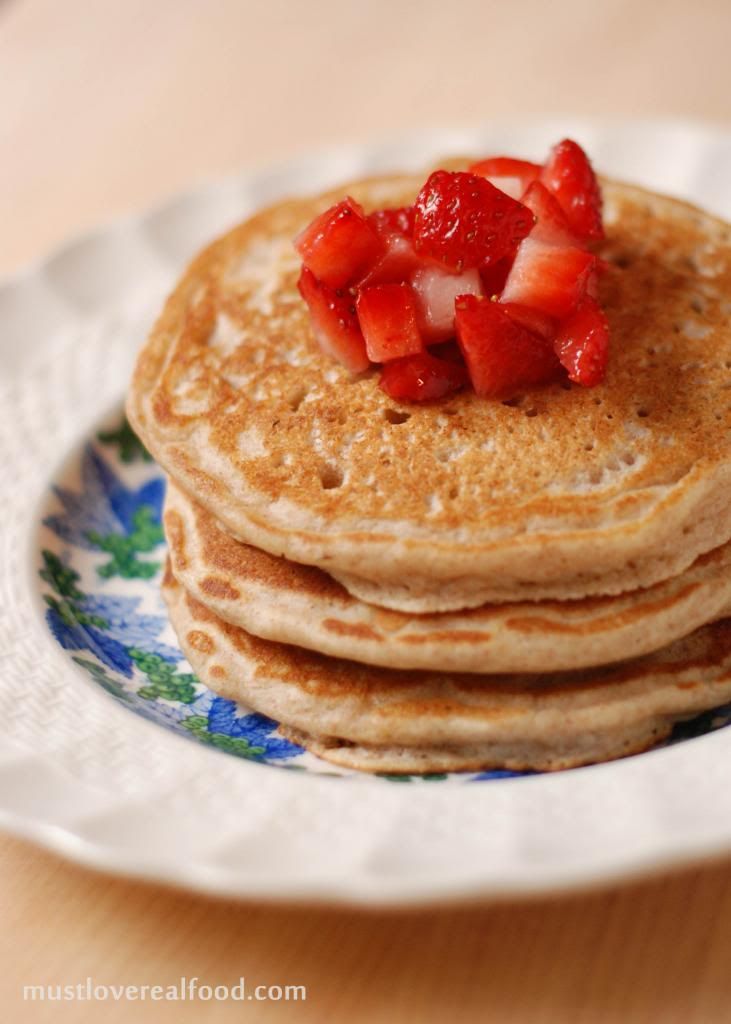 I'm dedicating this post to my mom, who always makes pancakes for my girls when we visit. She actually makes them from a box, but she just recently started buying REAL maple syrup. My sister and I thought that this was a huge breakthrough and were probably more excited than we should have been. It's the little things.
I'm actually working on a coconut flour pancake recipe right now. Apparently, I don't have it quite right because my daughter requested the "usual" ones this morning. I have tried many different basic pancake recipes, and this is my favorite. I always use sprouted whole wheat flour because it bakes up fluffy like white flour and tastes wonderful. But you can also use 1 cup unbleached all-purpose flour and 1 cup whole wheat flour and get great results. Don't forget to pick up some REAL maple syrup!
Whole Wheat Pancakes
Makes about 16 (4-inch) pancakes
Ingredients
2 cups sprouted whole wheat flour (or 1 cup unbleached all-purpose flour and 1 cup whole wheat flour)
1 tablespoon baking powder
1/2 teaspoon Celtic sea salt or Real Salt
2 cups whole milk
2 eggs, lightly beaten
2 tablespoons melted and cooled butter, plus unmelted butter (or ghee) for cooking
1 tablespoon maple syrup (not pancake syrup!)
1 teaspoon vanilla extract
Equipment: griddle or large skillet, spatula, whisk, ladle, two bowls – one large and one medium
Directions
Preheat a griddle over medium-low heat and preheat oven to 200°.
In a large bowl, whisk the dry ingredients together. In a medium bowl, beat the milk and eggs together; stir in the cooled butter, maple syrup and vanilla. Slowly pour the wet ingredients into the dry ingredients. Mix only until incorporated; a few lumps are okay. If your batter seems too thick, add 1 tablespoon of water at a time and mix until it's still thick, but pourable.
Add a teaspoon or two of butter (or ghee) to the griddle each time you add batter. When the butter has melted, ladle batter onto the griddle. You may need to lower the heat after the first batch of pancakes. When the edges of the pancake begin to set, about 2 to 4 minutes, the pancake is ready to flip. If you are unsure, use your spatula to take a peek at the bottom; it should be a nice brown color. Lightly brown the second side and serve, or transfer to a baking sheet in the oven for up to 15 minutes.
Adapted from Mark Bittman's book, How to Cook Everything